Sunday, March 29, 2009 [19:08 PM PST]
I'm back from the Game Developers Conference up in sunny San Francisco - did a roadtrip out to LA the week before and then drove up with some of my friends.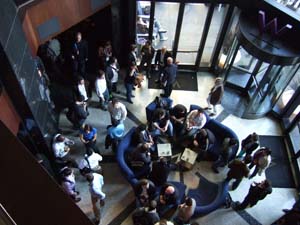 While it was great fun, it's sad that it's actually faster to drive around then it is to go through all the hassle of flying these days (at least for short jumps like this. The conference itself was cool as always - normally I like to go check out the talks, but this time I ended up in meetings for most of the trip, but I did get to meet some really great people. I can really only handle 'people' time soo much, so it is really nice to be back at my pad, getting caught up and getting started on a new app for the site. :)
On the expo side of GDC, nothing really jumped out at me too much - lots of things that are certainly better than before, but nothing Earth-shattering.
OnLive
was interesting, and the technology was pretty impressive (it will be interesting to see how it performs in the real world), but I'm not much of a believer in the core concept of it being a viable alternative to console, or a cheap way to play high end games on a PC. I would love to know what they plan to do on the back end (server) side of things, because I can't imagine they can run too many instances of Crysis on one of their servers. That being said, they did an awesome job on their interface - it's super cool and intuitive - someone had a bit too much free time on their hands.
On the way back I stopped by Steve Gibson's place and hung out with him, which is always a blast - we actually spent a fair amount of time talking about some cool new utilities to do, so don't be surprised if you see some things that he suggested in the not too distant future. :) The way things are looking right now, I have a couple of somewhat esoteric music utilities that one of my friends has been asking for, one or two generic utilities Steve suggested, and a networking tool I did ages ago but never fully finished - so that's what you have to look forward to for now.
Thursday, March 19, 2009 [15:39 PM PST]
It's been a long time coming, but I've put up my entire catalog of music up on the site - well, almost everything, but what left off I think only a select few would enjoy. :) So, download and enjoy the music on the player of your choice - all of the songs are available in the
MP3
section of the site - as with the software, I'm looking forward to getting my music ball rolling again as well.
Tuesday, March 17, 2009 [14:10 PM PST]
(or alternatively titled, "Why I decided to get rid of my studio")
First off let me start by admitting that I am a recovering gear whore - I had more equipment than anyone could reasonably use, but at the same time I loved every piece of gear. I had been collecting gear for more than 15 years, sometimes a bunch of new pieces at once, other times waiting for some vintage keyboard (usually) or rack unit that I'd been seeking for ages. Of course the worst facilitator of this affliction was eBay, since you can go on there and find things that you'd never find at your local pawn shop or flea market - but by the same token there's at least one person who knows what that little treasure is and probably will spend at least as much as you.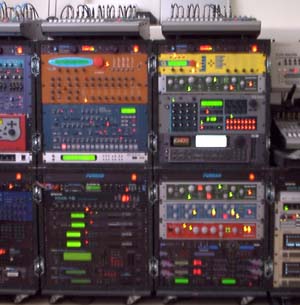 My music roots really date back to the Amiga and tracker music - when I made the transition to MIDI at the time, it was really just more of the same, I used a MIDI sequencer that was very close to how trackers work, and I bought a sampler. I say this because when I finally 'got' the whole synthesis thing, it was a big shift in the way I listened to and composed music, and I also got much pickier about the sounds I used and whether they were analog or not. Since the computer has always played a dominant roll in my studio, I never was really scared by advances in technology - but at the same time I doubted that software synthesis would ever get those lush analog sounds that I love... and then I heard ReFX Vangard.
It's important to note that now there are many more options in the soft synth realm that sound great - but for me Vangard was the first that while it didn't sound exactly like a particular vintage analog keyboard, it did have many of the same warm qualities that I had come to love. The first time I played with it, I thought "Time to sell all my gear." - did I think I was going to get all the functionality that my studio gave me? No, and in reality I still don't have all the functionality that I once did, but at the same time I also don't have the same problems I used to have - of course some have just been replaced by new problems, but overall there are less of them.
One side-effect of this though is that it certainly affects the way I compose - I'm not sure if it's just the tools that I'm using or the diversity of the soft synths, but music composed on one system doesn't sound like music composed on the other. Which one is better is a bit subjective - but I can tell you that now it's much more convenient, but by the same token once everything was setup before it was easier.
Now I look at the music equipment industry, which is really being forced to re-invent themselves - there will still be hardware, but it won't be the hardware we're used to seeing or that they're used to making. It's going to be more about control and how we interact with the computer than actually about sound creation - the new control surfaces that keep popping up and audio 'toys' like Yamaha Tenori-On are examples of that transition. Ultimately I think this is really good since it means music composition has never been more accessible to people, while at the same time becoming easier and easier to do.
Tuesday, March 15, 2009 [09:22 AM PST]
Gasp, I'm not sure why anyone would still be coming here, but for those hardcore few that do, I'm pleased to say that I'm back in the saddle! I really appreciate the support of everyone who has sent messages and kept spreading the word about the site while I was MIA. I've actually written a
brief history
which fills in some of the gaps as far as what I've been up to, etc. I've also rolled up the rambles and news into the new heading of Blog, which is probably more accurate now.
On the software side of things there's nothing new yet - but don't despair, I went through EVERY program on the site, rebuilt it and tested it to make sure it was all happy and healthy under Vista. Now that I've gotten all of the heavy lifting grunt work of going through all the existing apps, it's now on to the fun stuff of making some new ones. If you have any ideas for new programs, or features that you'd like to see added to any of the existing software, make sure to
contact
me and let me know what you'd like to see.